DirectorySpot makes keeping your volunteer group, trade organization, club, alumni society, fraternity, sorority, or any member organization connected easy and fast.
Our app keeps all your organization's contacts on-hand, on the go!  Organize your contacts by groups for easy messaging and emailing for boards, leadership teams, or small groups.  Stay up to date with meetings and events with a built-in calendar.  Each directory from DirectorySpot is customizable and always secure.  Considering DirectorySpot for your organization?
KEY FEATURES
DirectorySpot makes keeping in touch with other members of your volunteer group, club, organization, fraternity/sorority, or any other member organization easier than ever.
Download our data template – Template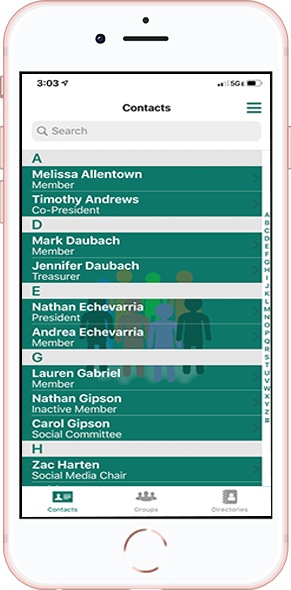 Contact Info
DirectorySpot is populated with information about each contact including names, titles, phone numbers, emails, and the groups they belong to. All of this information can be initially loaded via an Excel spreadsheet and then can be updated throughout the year via our secure website.
Groups
Create groups of contacts so they can easily be found and even send out emails to a subset of your full contact list.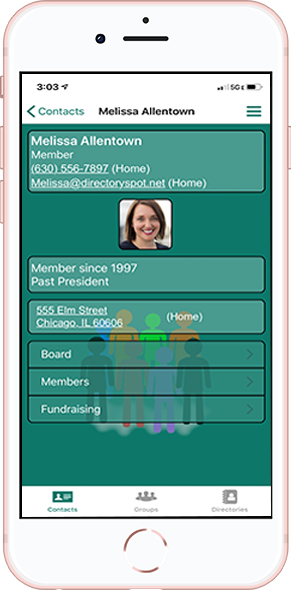 Pictures
Organize students into class lists for quickly finding other kids in the class or even emailing an entire class at one time.
Our directories are perfect for…

Alumni associations
Athletic clubs
Charities
Country clubs
Fraternities/Sororities
Men's clubs
State or district-level PTO/PTAs
Support groups
Trade organizations
Villages
Volunteer organizations
Women's clubs
Moms' groups
Newcomers groups
Social clubs
Sports clubs
And more…
Interested in finding out how a mobile directory DirectorySpot can serve your organization?
Use On Any Device
The DirectorySpot app is accessible on iOS and Android devices and through our web version. Your directory can be with you wherever you go.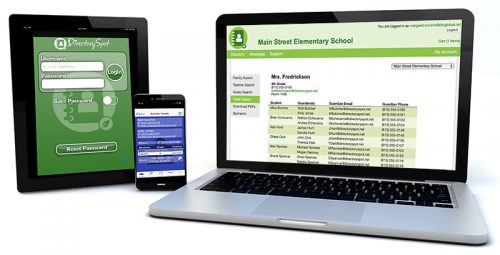 Simple pricing based on number of members listed in the directory – no hidden or additional fees!
The prices below are annual fees and include unlimited access to DirectorySpot and downloads of our app. The DirectorySpot app is always free to download from the app stores, but you need a valid username and password to access a directory.
Organizations will also save printing costs since anyone can download their own copy of a PDF, or better yet, use the app instead!
Our pricing includes the following features at no additional cost:
Customized design of your app
Unlimited updates through our secure website
Unlimited user accounts
Unlimited number of sponsors
Unlimited PDF downloads for all of your users
Link to your school calendar
Group emailing and push notifications
Access to support on our website
| # of Contacts | Annual Price |
| --- | --- |
| 1 – 100 | $100 |
| 101 – 150 | $150 |
| 151 – 200 | $200 |
| 201 – 250 | $250 |
| 251 – 300 | $300 |
| 301 – 350 | $350 |
| 351 – 400 | $400 |
| 401 – 500 | $450 |
| 501 – 600 | $500 |
| 601 – 700 | $550 |
| 701 – 800 | $600 |
| 801 – 900 | $650 |
| 901 – 1000 | $700 |
| 1001 – 1250 | $750 |
| 1251 – 1500 | $800 |
| 1501 – 1750 | $850 |
| 1751 – 2000 | $900 |