Give your company a social intranet edge with a mobile directory from DirectorySpot.  With DirectorySpot you can keep your staff connected and involved.
We understand that just like every person in it, your company is unique.  Your directory with DirectorySpot is customizable and easy to set up so you can reflect your company's culture.  Our company directory service allows all employees—in house and remote—to update their information and connect with the entire company.  A directory with DirectorySpot includes more than your standard contact information.  Celebrate the diversity and work of your workplace community with your own customizable directory with DirectorySpot!  Sign up for a free trial to see how DirectorySpot can serve your company today.
KEY FEATURES
DirectorySpot's app can be customized with your choice of color or logo. Make your directory look professional while representing your organization.
Download our data template – Template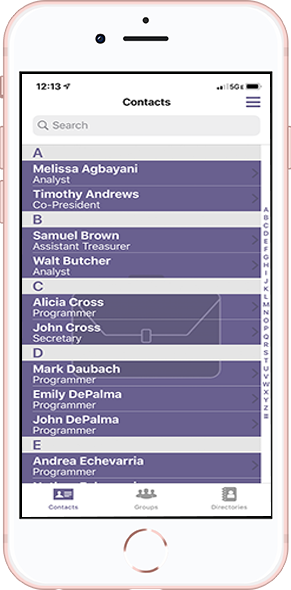 Contact Info
DirectorySpot is populated with information about each contact including names, titles, phone numbers, emails, and the groups they belong to. All of this information can be initially loaded via an Excel spreadsheet and then can be updated throughout the year via our secure website.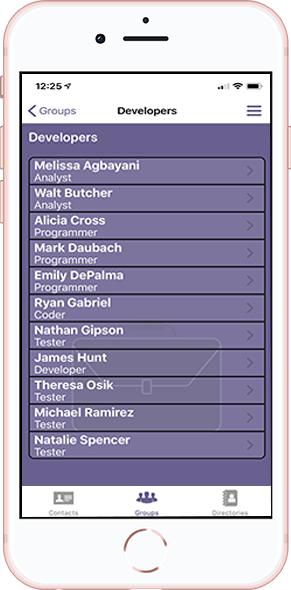 Unlimited Info
Does your company have employees with multiple phones or homes? Don't worry, you can have multiple phone numbers, email addresses, or even addresses for each contact in your directory.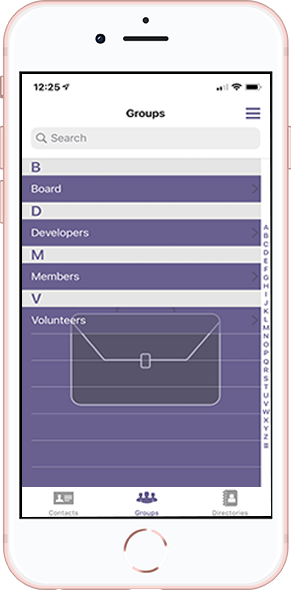 Groups
Create groups of contacts so they can easily be found and even send out emails to a subset of your full contact list.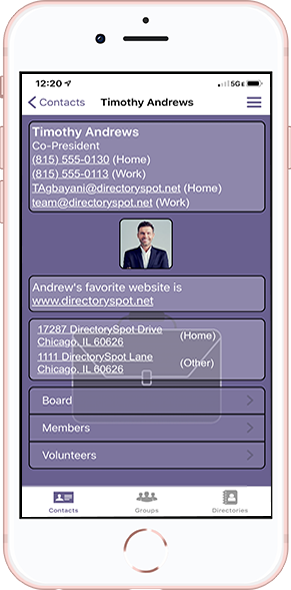 Pictures
Help your employees get to know each other better by uploading a picture of each member of your group.
Use On Any Device
The DirectorySpot app is accessible on iOS and Android devices and through our web version. Your directory can be with you wherever you go.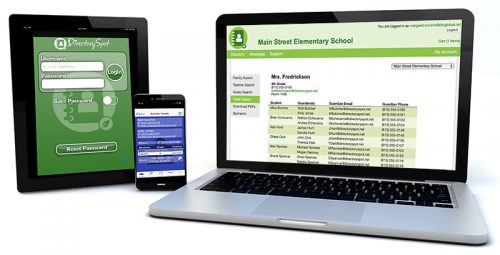 Simple pricing based on number of employees listed in the directory – no hidden or additional fees!
The prices below are our annual fees and include unlimited access to DirectorySpot and downloads of our app. The DirectorySpot app is always free to download from the app stores, but you need a valid username and password to access a directory.
Companies will also save printing costs since anyone can download their own copy of a PDF, or better yet, use the app instead!
Our pricing includes the following features at no additional cost:
Customized design of your app
Unlimited updates through our secure website
Unlimited user accounts
Unlimited number of sponsors
Unlimited PDF downloads for all of your users
Link to your school calendar
Group emailing and push notifications
Access to support on our website
| # of Contacts | Annual Price |
| --- | --- |
| 1 – 100 | $100 |
| 101 – 150 | $150 |
| 151 – 200 | $200 |
| 201 – 250 | $250 |
| 251 – 300 | $300 |
| 301 – 350 | $350 |
| 351 – 400 | $400 |
| 401 – 500 | $450 |
| 501 – 600 | $500 |
| 601 – 700 | $550 |
| 701 – 800 | $600 |
| 801 – 900 | $650 |
| 901 – 1000 | $700 |
| 1001 – 1250 | $750 |
| 1251 – 1500 | $800 |
| 1501 – 1750 | $850 |
| 1751 – 2000 | $900 |