DirectorySpot's directory services are perfect for building and connecting with your church community.
Save time and money by making your church directory completely mobile.  DirectorySpot is less expensive than printing copies of your directory and updating member information is easy.  Keep all members—new and old—updated with contact information that can be easily uploaded on our secure website.  DirectorySpot also improves group communication.  Make individual groups for committees or leadership teams to make staying in contact simple and fast.  Group emails and messages can be sent out from within the app or online platform.  Only authorized persons will have access to your directory's information.  Interested in how DirectorySpot can serve your church community?  Sign up for your free trial!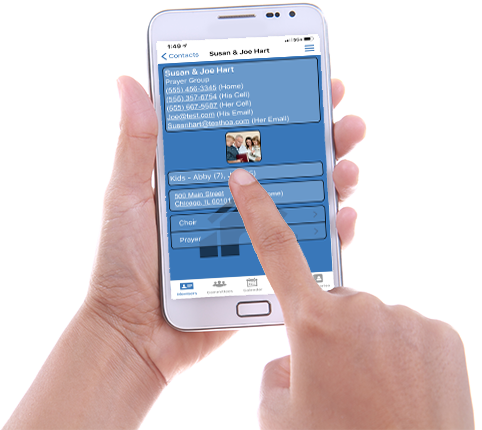 KEY FEATURES
DirectorySpot's app can be customized with your choice of color and logo. Make your directory reflect your church pride.
Download our data template – Template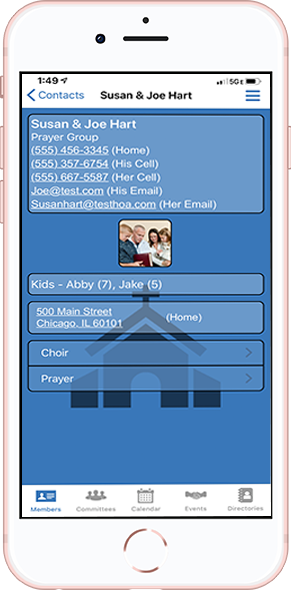 Member Information
Church communities are constantly growing and new members are always joining. In awareness of this, DirectorySpot has made it easy to collect and share information about members in your church. Easily access member names, emails, phone numbers, and more. The member information can be easily loaded via spreadsheet then updated at any time using the secure website. DirectorySpot ensures no new member is left out of the loop.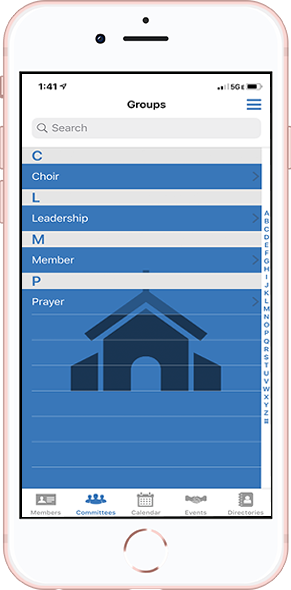 Groups
DirectorySpot improves group communication to members from staff and between members. Staff and members alike can use the app to send personal or mass messages and emails to church members, church leaders, and the entire community. Using security profiles, users can limit those that can send emails by setting up communication boundaries. The app allows designated users the ability to send push notifications either to the whole directory or a particular group within the directory at all times, using control features and users preferences.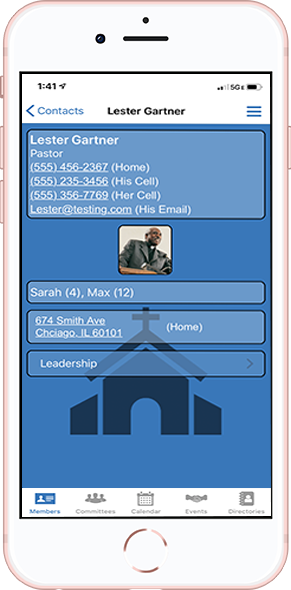 Pictures
Help your members get to know each other better by uploading a picture of each member of your group.
Use On Any Device
The DirectorySpot app is accessible on iOS and Android devices and through our web version. Your directory can be with you wherever you go.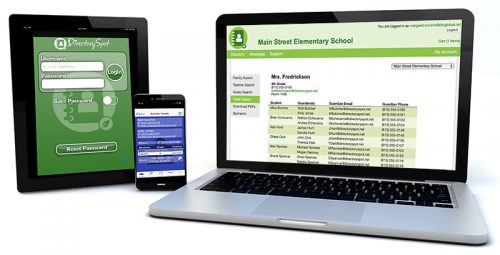 Simple pricing based on number of contacts (families) listed in the directory – no hidden or additional fees!
For most Churches, a "contact" = a family.  The prices are annual fees and include unlimited access to DirectorySpot and downloads of our app. The DirectorySpot app is always free to download from the app stores, but you need a valid username and password to access a directory.
Churches will also save printing costs since anyone can download their own copy of a PDF, or better yet, use the app instead!
Our pricing includes the following features at no additional cost:
Customized design of your app
Unlimited updates through our secure website
Unlimited user accounts
Unlimited number of sponsors
Unlimited PDF downloads for all of your users
Link to your school calendar
Group emailing and push notifications
Access to support on our website
| # of Contacts | Annual Price |
| --- | --- |
| 1 – 100 | $100 |
| 101 – 150 | $150 |
| 151 – 200 | $200 |
| 201 – 250 | $250 |
| 251 – 300 | $300 |
| 301 – 350 | $350 |
| 351 – 400 | $400 |
| 401 – 500 | $450 |
| 501 – 600 | $500 |
| 601 – 700 | $550 |
| 701 – 800 | $600 |
| 801 – 900 | $650 |
| 901 – 1000 | $700 |
| 1001 – 1250 | $750 |
| 1251 – 1500 | $800 |
| 1501 – 1750 | $850 |
| 1751 – 2000 | $900 |